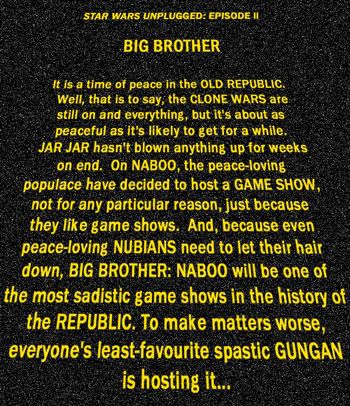 Hidoe! Welcomen one and all to (hopefully) der biggest "reality" TV sensation since
Survivor: Tatooine
! Mesa yoursa host, Big Brother!
Mesa sure most of yousa have hearen of Big Brother before - a game show invented in der Holland System dat hassen since spread throughout der Outer Rim. Now, issen mesa honourabled task to brigen itsa to Core Worlds TV! Here on Naboo, wesa hassen preparen a house.
Whatsa yousa tinken? Issen a pretty nice house, eh? Well, der prisone- er...
guests
are going to getten pretty sick of itsa... because for der next twelve weeks, theysa can noah leaven
at all,
without written permission from mesa, signed in triplicate. Now, issen time to meeten oursa contestants.
General Grievous
: A psychotic, athsmatic cyborg general from der army of der Separatists.
Lieutenant-Commander Oneida
: An officer from der Republic Navy, and ex-handmaiden for Senator Padme, when shesa wassen Queen of Naboo.
Captain Typho
: Bombad security cheif of der Naboo senatorial delegation.
Master Yoda
: Professional green riddle-monkey of der Jedi Council.
Senator Padme
: Ex-queen of Naboo, and now der Senator for Naboo and der Chommel Sector.
Jon der Intergalactic Gladiator
: Der name sayen itsa all.
Obi
: Beer-and-cheetos-obssessed Jedi Master.
Jabba
: Mesa wonderen, will hesa fitten through der front door?
Noel of Neptonian
: Last surviven member of a race from a different galaxy.
Fluke Starbucker
: Founder of the New Jedi Order
Wannabe
.
Jango Fett
: Bombad Mandalorian bounty hunter.
Jawajuice
: Tatooinian droid-repo Jawa.
Captain Typho: Wait a minute... I know that voice...
Oneida: Say it isn't so.
General Grievous: *Cough**cough**hack* Jar Jar? Is that you?
Mesa: Er... no... mesa Big Brother!
Master Yoda: See through you I can. Fool us, you can not!
Mesa: Oh, fine... Mesa Jar Jar Binks. Happy?
Senator Padme: Okaay, I'm, like, out of here.
Mesa: Hey! Yousa can noah jussen leaven like dat! Issen against der rules!
Senator Padme: Oh, fine. But when I get out of here, you are like, so totally fired.
Mesa: Yes, ma'am... *Ahem* Welcomen, contestants, to Big Brother: Naboo. Thissen house will be yoursa home for der next couple of months. Whosaever can lasten der longest in here without goin stir-crazy will win oursa fabulous 1,000,000 credit prize! And yousa get to keep der house. Wesa only built it for thissen show anyway.
Now, theresa are a few rules. Yousa can noah put one tiny little toe outside thissen house while yousa stayen here without mesa say-so. Every week, yousa will all holden a vote, and one person will be kicked out of der house - and der game. Pay attention, because thissen berry important. Each of yousa will getten two (2) votes. One of those votes issen for whosaever yousa tinken should leave der house. Vote for someone yousa noah like, or someone yousa tinken could be tough competition. Der other vote issen a "nice" vote. If yousa usen thissen vote for someone, itsa cancels out 0ne normal vote against themsa. Issen a little complicated, but yousa will getten der hang of itsa, mesa sure.
If yousa noah usen yoursa first vote, itsa will counten
against yousa
, so maken sure to use itsa. On der other hand, yousa can choose whether or not to use yoursa second vote - but yousa can noah usen itsa for yousaself, only for someone else.
As well as der contestants voting, theresa will be polls on thissen blog so oursa gentle viewers can voten for der contestants theysa wanten to leave der show. Thissen will contribute to whosa getten thrown off.
Every week, Big Brother (mesa) will given yousa all a Challenge. Thissen like a sort of competition, and mesa can asken yousa to do just about anyting. Whosaever wins will getten a special prize, which issen different for every challenge. Mesa will issue der challenge on Monday. Yousa can make a post on oursa blog about how yousa did in der challenge anytime between Monday and Friday. Den, after dat, issen vote time. Any time after Friday, yousa can senden mesa yousa votes for der week (e-mail themsa to
mesa_jarjar_binks@hotmail.com
). Each Sunday, mesa will counten up der votes and announcen whosa will have to leave der Big Brother House.
Yousa may bringen one personal item with yousa. Itsa can be anyting - a coffee machine, a photo of yoursa family, a sandwich - but itsa mussen be only one ting. If itsa maken yousa feel more comfortable, yousa can bringen a weapon with yousa
as well
, but yousa should noah need one, and MESA NOAH WANTEN YOUSA KILLEN EACH OTHER, OKEYDAY?
Last, but noah least, yousa may also bringen a pet with yousa if yousa like. But mesa maken one ting clear - if yousa do, itsa issen
yoursa
responsibility to make sure issen toilet trained, issen yoursa responsibility to keepen itsa fed, and itsa yoursa responsibility for anyting itsa breaks.
Now, thissen week, wesa will noah haven a vote since yousa only jussen got here. Yousa haven until Monday and der first challenge to get used to yoursa new home.